Behind the scenes with Arthur, our Sous Chef at The Delaunay Counter
Meet Arthur, our Sous Chef at The Delaunay Counter
Growing up with a family who love cooking and dining out gave Arthur a taste for a culinary career. He wasted no time getting involved in the world of hospitality, landing his first job at a local pub at just 14. With over a decade of experience under his belt, Arthur joined The Delaunay Counter as Sous Chef in 2021. Here, we find out a little more about Arthur's career journey, as well as how he likes to relax after a week in the kitchen…
How did you get into Hospitality?
I was 14, and, like many 14 year olds looking for a bit of extra spending money, I got a job as a pot-wash and Commis Chef in my friend's pub. It involved washing dishes, making salads… just rushing around like crazy really. Despite the chaos, I've never looked back. After a stint as a waiter, and alongside doing a catering course at college, I got my first proper chef role at Coworth Park in Ascot when I was 18.
Did you always know you wanted to be a chef?
I think so. My family are big foodies, so good home-cooking and dining out were big parts of my childhood. All the big memories of my life have centred around restaurants and food. There were lots of birthday celebrations at The Wolseley, actually. The sense of occasion and excitement I felt as a child when going to places like that always stayed with me, and knew I wanted to be a part of making that experience for other people.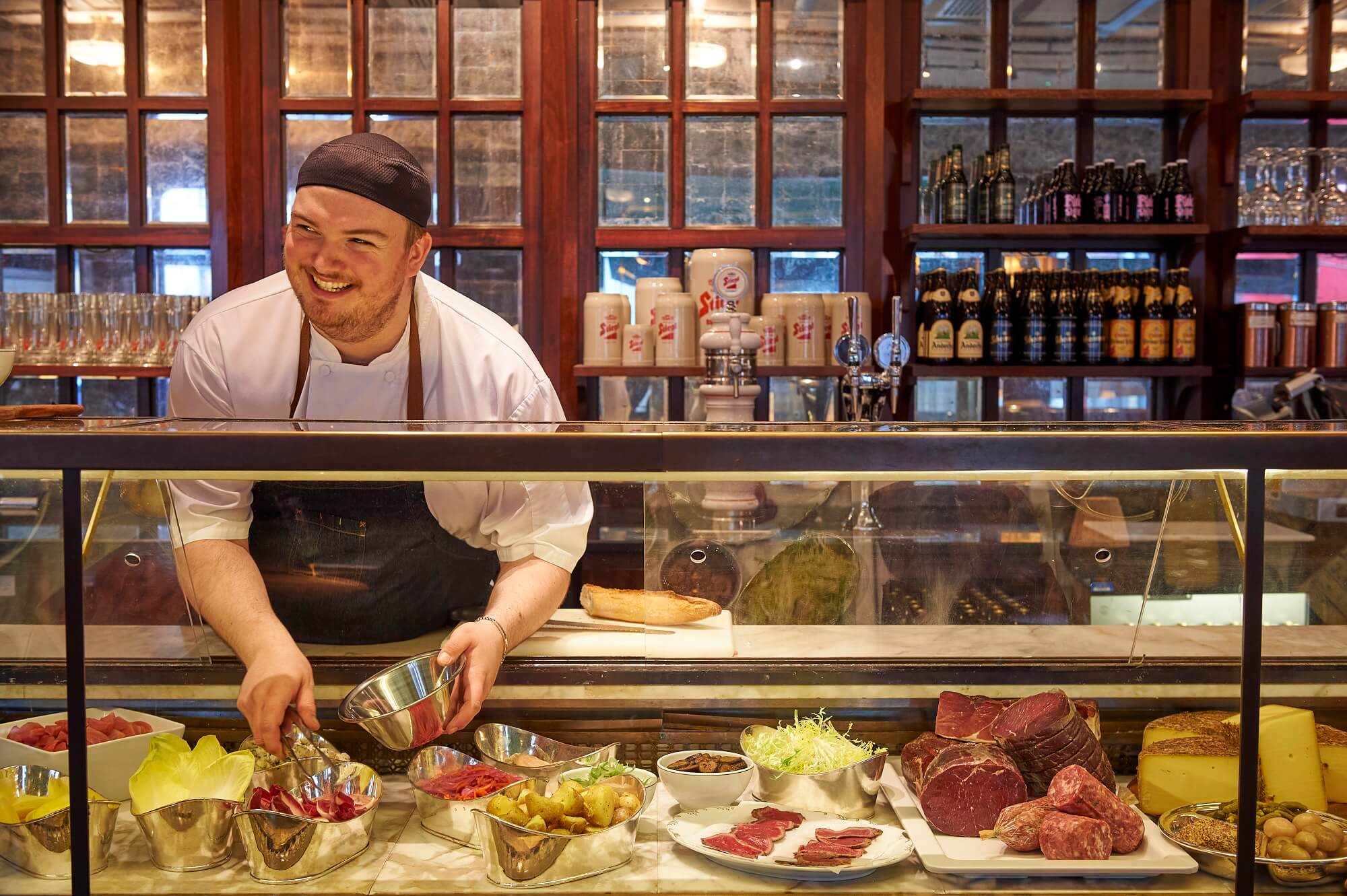 What's your favourite thing about working at The Delaunay?
Probably the people – we are lucky to have really nice team who all work well together.
If you could choose one thing from The Counter menu, what would it be and why?
Definitely the Tartiflette – it gets better every time you try it. It's creamy, cheesy, potato-y and winey; everything you need a dish to be. Each tray we make of it weighs about 9 kilos!
An honourable mention should also be made to Arthur's Superfoods Salad, which was, very flatteringly, named after myself by my team.
What has been your career highlight so far?
At Coworth Park I was lucky enough to be part of the kitchen team when the Royal Family attended a Polo Event there – we prepared afternoon tea and dinner for 760 people . The whole experience was really exciting considering I was only just starting out as a chef.
More recently, I ran the kitchen in Le Derrière in Paris during lockdown, which was very cool.
When you're not at The Delaunay, where can we find you?
This may be surprising… but probably at home crocheting. I'm currently working on a blanket for my best friend as a moving-in present. It's the perfect stress relief, I just put the TV on in the background and zone out. Either that, or walking my dogs.
And finally, what advice would you give to anyone looking to become a chef?
It's not always about working for those who say they're the best, but finding people you work well with. Finding chefs who showed me the right way to do things, and explained why things worked that way, was something I was very fortunate to stumble upon. Find a team that will teach you what you need to know, and go from there.
To find out more about our current roles at The Delaunay and the rest of The Wolseley Hospitality Group, please visit our website: https://thewolseleyhospitalitygroup.com/recruitment