Behind the Scenes with our Head Maitre d', Gianluca Antonelli
With more than 30 years' experience in hospitality, Gianluca is a reassuring presence in The Delaunay. His first taste of the industry came from his family in Italy who ran their own coffee shop – hospitality school followed, and he has never looked back. Here, Gianluca shares what it is he loves about working at The Delaunay and what keeps him coming back.
Tell us a little about yourself – how did you get into hospitality?
Well, where do I start… my family used to run a coffee shop in Italy, and from a young age I realised that I loved being surrounded by people. It seemed completely natural to take the next step and go to hospitality school at the Panzini Institute in Senigallia when I was 16 – and I've never looked back.
I worked in some of Italy's best five star hotels and restaurants, before moving to London in 2008, working at the Paternoster Chop House and Rules before joining The Delaunay.
And what keeps you in the industry?
I'm now 47 years old (can you believe it?), and I've been in the industry for 30 years – but it doesn't feel like it. Every day is different, and for me it's the people who keep me coming back.
Especially here at The Delaunay, I joined in 2014 as a Maitre d' and it was like I had finally found my place. Now, after seven years I am Head Maitre d' and I couldn't imagine working anywhere else.
What first drew you to working at Corbin and King?
Everything made sense when I came to Corbin and King – it's like the role was written just for me. I'd spent years looking for my place in hospitality and I've found it here. The development and progression opportunities are also excellent.
And what's your favourite thing about working at The Delaunay?
The Delaunay is a very special place, the atmosphere, the people… it's what all restaurants are about: connections.
The location between so many incredible places like the LSE, all the theatres, Temple and Somerset House means that we see so many different people from different walks of life all coming together. And that's where the magic happens, the atmosphere is beautiful – it's an incredible strategic position, what all restaurants would wish for.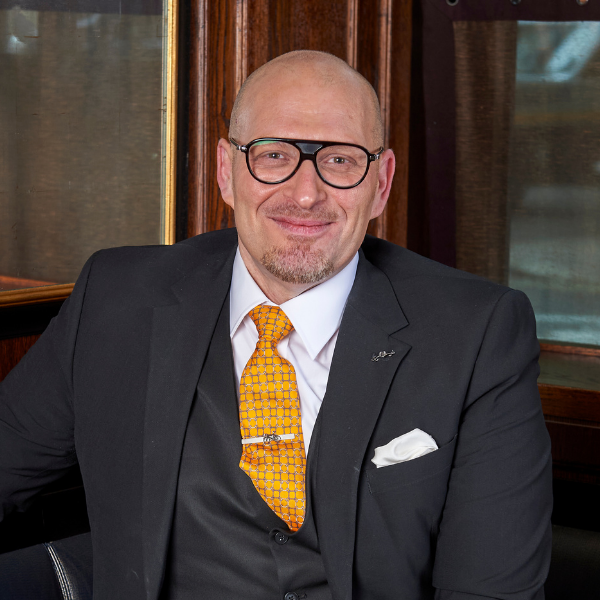 What do you like most about working in a diverse team here at The Delaunay?
I love working with people of different ages, nationalities and backgrounds – everyone brings different experiences which helps to improve the way we do things here, and the team becomes even richer.
You've been working in hospitality for 30 years now, what have been the biggest changes you've seen?
Technology – it's made restaurants more diverse, and it's shaping the present and future of hospitality. It used to just be for certain type of people, whereas now we can welcome more people from all walks of life.
I would say the other things is that there are more women in the industry and this is only a good thing. At hospitality school there were only a couple of women in my class, now I am working in an almost evenly split team across genders. Women bring different values and qualities – it contributes to making hospitality better!
What's your favourite thing about heading up the Reception team at The Delaunay?
My absolute favourite is training new staff in the C&K way – it really fulfils me, as I want everyone in my team to enjoy working here.
It's a privilege to be the face of Corbin & King and I enjoy the responsibility of showing people how we demonstrate our values every day and do things differently here.
When you're not at The Delaunay, where are your favourite spots to eat and drink in London?
I would have to say either Palomar on Rupert Street or the Hawksmoor on Air Street – perfect comfort food, exactly what I love. For drinks, it has to be The Savoy; I love the cocktails there.
My favourite Corbin & King restaurant other than here has to be Brasserie Zédel, when you walk down those stairs of an evening, you can feel the atmosphere, it's electric and I feel at home there… it transports you to another time and place, with Bar Américain and Crazy Coqs, it's fantastic
Finally, what advice would you give to anyone who is considering starting out in hospitality?
Be resilient and adaptable – hospitality means so much and is so much more than just working in a restaurant, there are so many opportunities and things to try.
I didn't find my path in hospitality until my mid-30s, and now I am here as Head Maitre D'!
---

Corbin & King is sponsoring National Older Workers' Week 2021. Taking place from 22nd to 26th November, it is an opportunity to showcase and celebrate our multigenerational workforce – and why hospitality is a welcoming environment for all. Over the course of the week, we will be sharing stories from our staff; and Gianluca's is just one of them.
If you're interested in joining the Corbin & King family, take a look at our current vacancies.