Behind the scenes with our Bar Manager, Alessandro Mannello
Alessandro Mannello joined The Delaunay in May 2021 as Bar Manager, bringing with him a wealth of expertise. Having been immersed in the world of food and drink from a young age, hospitality runs through Alessandro's veins. Now, he is on a mission to put The Delaunay Bar on the map…
Tell us a little about yourself…
My first taste of hospitality management came via my father who ran one of the oldest pubs in Bologna. I started working there when I was 18, and that was the beginning of my love affair with hospitality. I immersed myself in every aspect of the operation, from washing pots to serving customers.
At the same time I was studying economics at the University of Bologna – I wanted to be able to use numbers and apply these skills in hospitality. I then went on to complete an MBA after this. I did try working in a bank once for 6 months, but it was really not for me
Then in 2011 I moved to London to pursue new opportunities in hospitality… over the years I have had some incredible experiences, working at Le Bab and Soho House in London and most recently at the Hotel Villa Arcadio overlooking Lake Garda in Italy.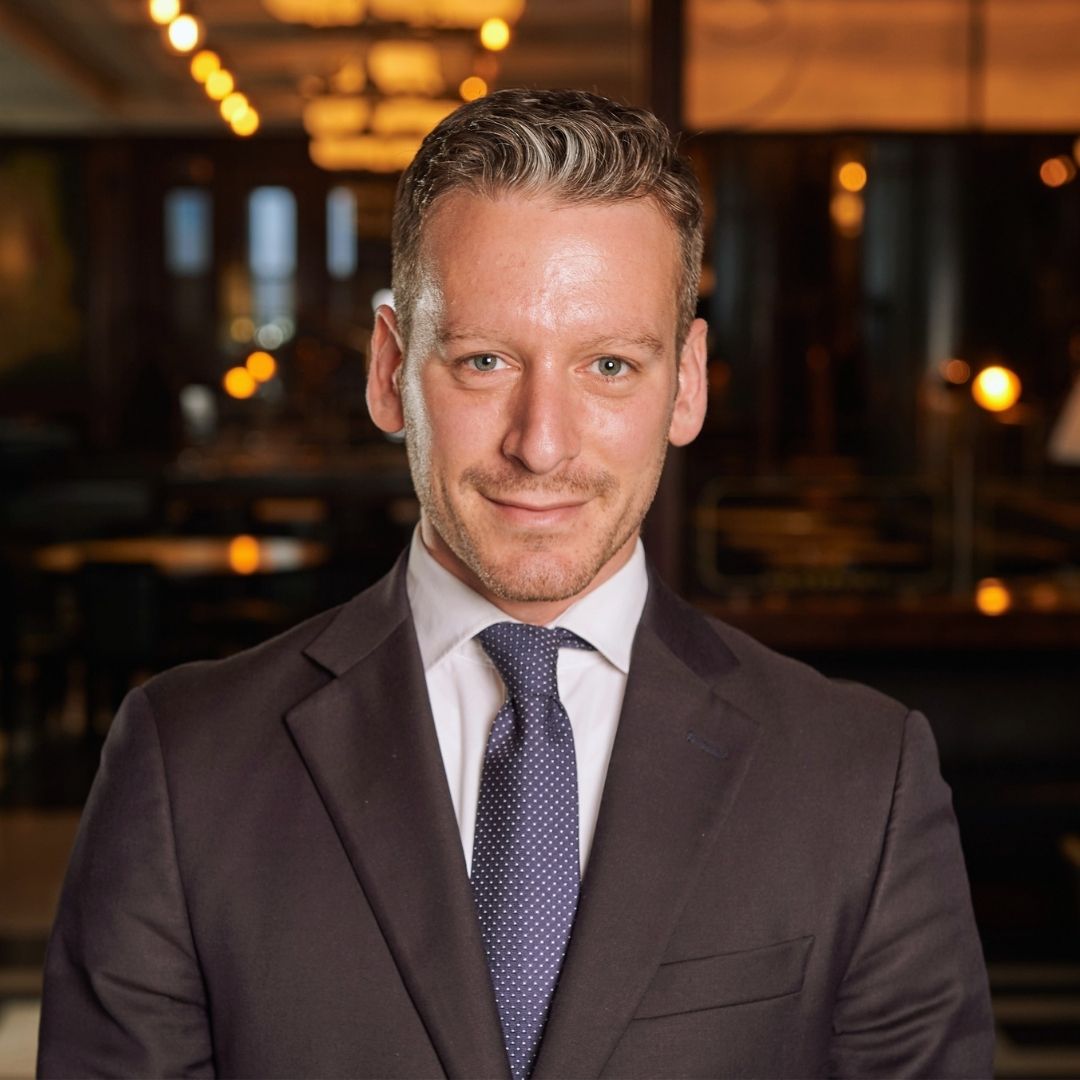 What drew you to the Corbin & King family?
I've always loved Corbin & King as a company. What I really love is the culture Jeremy and Chris have cultivated, and how involved the directors/senior team are – from hiring, through to daily operations – you always feel supported.
The team always comes first for me; and this is something else which really drew me to work here, as it's completely aligned with my values.
What's been your highlight so far working at The Delaunay?
Firstly, getting to work in this stunning setting every day – The Delaunay feels timeless, like it's always been here.
Overall, I would say my highlight is the team I am being trusted to build. Despite the challenging market for hospitality, I am proud of what we have achieved so far.
Where do you find inspiration for new cocktail recipes? Talk us through your  approach to designing the perfect bar menu.
I would say the visual is just as important as the taste when it comes to cocktails – it needs to wow you and make you want to drink it again and again.
For inspiration, it's always good to see what others are doing, so I keep on top of my research and try and visit 2-3 places around the city each week. Otherwise, I seek inspiration through travelling and art – two passions I try and indulge as much as possible.
Simplicity is the secret to Italian food and when it comes to creating the perfect bar menu, I take a similar approach – clean flavour, minimal ingredients, excellent produce and crafted with precision.
Creating a drinks menu that perfectly complements the food is one of my favourite aspects of the job – I love working collaboratively with the chefs and floor staff!
Most of all I enjoy talking to my guests, finding out what they like and creating bespoke drinks to order. Sometimes these even end up on the menu!
Martinis are one of the most popular orders at The Delaunay – what do you think makes the perfect serve?
It's such a simple recipe, so the way you make it is crucial. Making it at the table or the bar in front of guests is part of the theatre. Understanding the person you are making it for also helps, and for regulars, we will make it for them just how they like it when they arrive.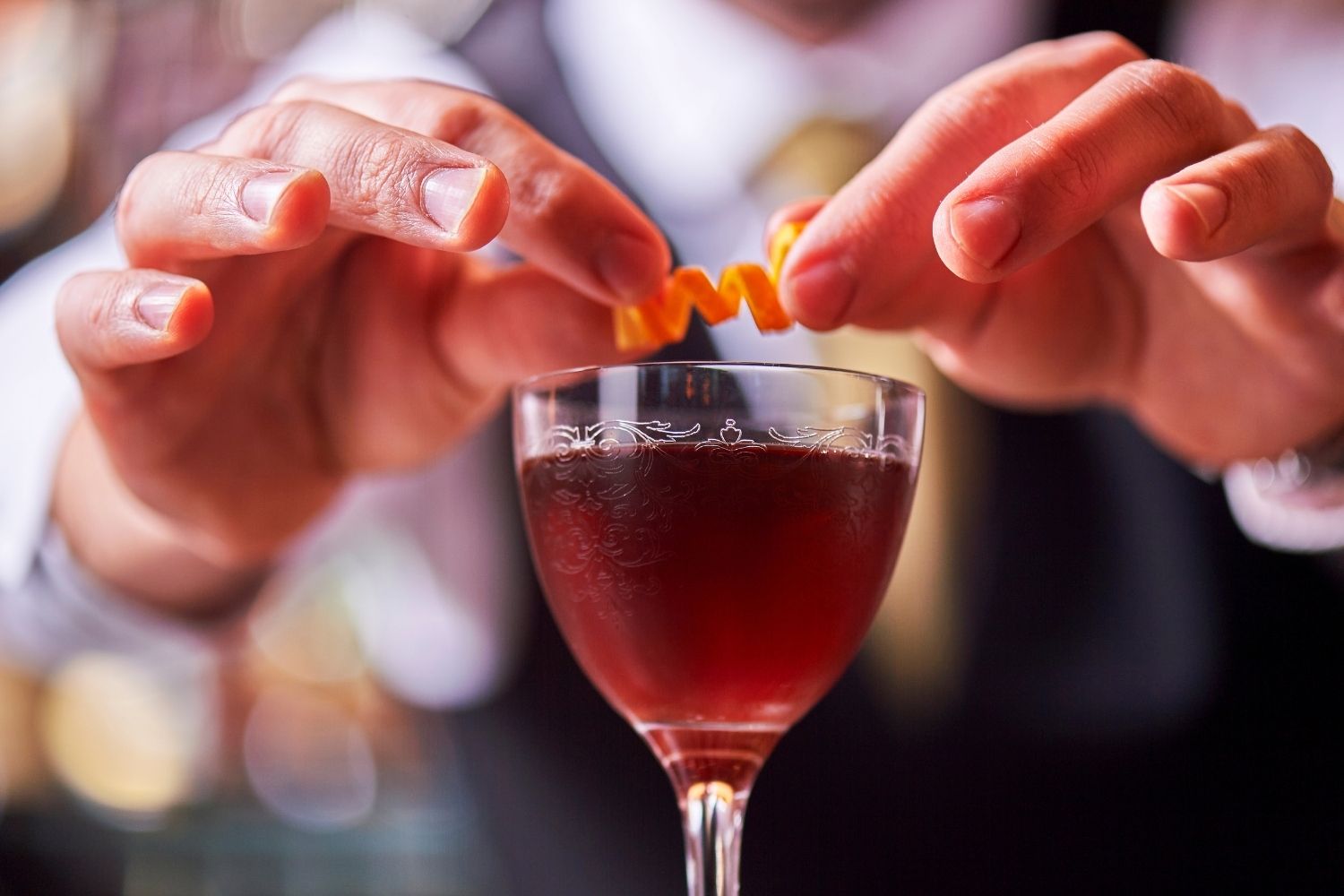 If you could only drink one cocktail for the rest of your life, what would it be and why?
It has to be a Negroni… it's a classic drink, embodying Italian simplicity. And just like a good song that you can listen to at any time you can't tire of it. It's exactly how a cocktail should be.
What's your favourite Corbin & King restaurant, other than The Delaunay?
The Wolseley – when I first moved to London, I used to get on a bus every day to work that went right past the restaurant. Every day I would look at it like you would at Big Ben… it has that wow factor!
When you're not at The Delaunay, where are your favourite spots to eat and drink in London?
For me it's always more about the atmosphere or feeling of a place. I would say my favourite restaurant overall is Ikoyi in St James's Market – I also had the pleasure of working alongside Jeremy Chan (owner and head chef of Ikoyi) when we opened Le Bab together.
My favourite Italian food can be found at Sartoria in Mayfair… then for cocktails it has to be Bar Termini, they do incredible Negronis! For Brunch try Caravan in King's Cross and for a treat Lyle's in Shoreditch stands out.
If it's just for a casual drink, there are so many places along the river in Hammersmith… you don't even feel like you're in London when you're there.
What's been your career highlight so far?
There have been a few, from contributing cocktail recipes to the Le Bab book, to being asked to direct and curate bespoke bar experiences for private clients – I even got to meet members of the Royal Family at one a few years ago.
Finally, if you could give one piece of advice to anyone interested in mixology or working in hospitality – what would it be?
Be passionate and proud of what you do. It can be difficult and tiring but it's more than just a job – it's the best job in the world!
Keep an open mind – eat, drink, explore – I've had lots of opportunities you might not expect and the chance to be really creative in my career… something people may not necessarily associate with hospitality!
---
Situated in the heart of theatreland, The Delaunay Bar is open seven days a week. Serving classic cocktails to bespoke creations (as well as a carefully curated selection of wines and draught beers), Alessandro and his team will be happy to cater to any occasion.
You can just walk in, or to book for up to 6 people – you can book your spot online or by calling or emailing our reservations team. Please note, we are unable to take bookings in November and December and will operate on a walk-in basis only.