Behind The Scenes with our Head Pastry Chef, Regis
From starting his career as an apprentice in France aged just 15, to working all over the world, Regis Negrier joined Corbin & King in 2005 as Head Pastry Chef for The Wolseley.
In 2011, for The Delaunay's opening, Regis made the move from Piccadilly to Aldwych. Since then, he has established the pastry offering for the group in his role as Head of Creative Development, but he has also remained here at The Delaunay as our Head Pastry Chef.
We thought it high time we shed a little light on this unsung hero so do read on if you'd like to learn a little more about him, and why, after all this time, he's showing no signs of stopping…
Tell us a little about how your career began?
It was during the 70s and I started work as an apprentice in a small town in Burgundy, France, which is where I learnt how to work in a kitchen and to have responsibility. After two years, I moved to the local chocolate shop, which I found completely fascinating as everything was made by hand. From there, I started to do a 'tour de France' – working in various regions around the country but before long I decided I wanted to work in restaurants.
So what first drew you to England?
I decided it was time to learn English really, so I came to London and found a job as a Chef de Partie at the Grosvenor House Hotel on Park Lane, where I worked for their Fine Dining and Banqueting team. We did banquets for over 3,000 people at a time, which was incredible.
From there, I travelled to Italy, Mauritius, Germany and again back to London. South Korea followed and then China… so it's fair to say I've been around the world a bit!
How did you end up at The Delaunay?
I've always loved England and my wife and I thought about opening our own restaurant in the south of the UK. Sadly that never happened but at the same time, I was offered the opportunity to work at The Wolseley. I worked there for just over six years, before moving across to The Delaunay for its opening in 2011… and that's where it ends!
What has kept you at The Delaunay for all these years?
I love working here not least of all because of The Counter. With The Counter you see, we can be very creative. With occasions and events throughout the year such as Easter, Halloween and Christmas, we get to make wonderful chocolates, biscuits and displays. If we didn't have The Counter, we'd probably be a four or five-person team, but we are actually 10. We do so many cakes! At least 50-60% of all the pastry work we do is for The Counter, which is wonderful.
Do you ever meet the customers?
Yes, I come upstairs from time to time and it's always nice to talk to people who appreciate your work. We have a very loyal customer at The Counter in particular who just loves what we do. Last time he was here, I took him downstairs actually and showed him around the kitchen. He said that our strudel is exactly the same as the one his mother used to make! When you get a compliment like that, it's very rewarding.
The strudel at The Counter has proved very popular at hasn't it?
Yes, very much so. Have you seen it? We make it to be 160cm long and we sell it by the inch. It's hard to miss to be honest! I like to think we're raising awareness of the humble strudel.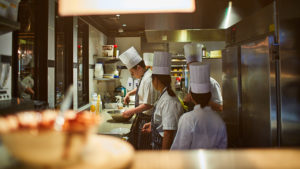 What do you find the most challenging part of your job?
Getting older, that is my struggle! Other than that though, I love everything about it. A tough aspect is probably the retention of staff but that's typical across the hospitality industry as a whole but, at the moment, I'm very lucky to have such a good team.
You are quite involved with educating children in the local area about food. Tell us about that?
I'm a member of The Royal Academy of Culinary Arts, which is a catering industry association that many chefs across the country are involved in, from the likes of Gordon Ramsay, Jamie Oliver, Heston Blumenthal… and people like me who are much less well known! They have many programmes, one being 'Chef Adopt A School' with the idea of teaching children to better understand food and to eat well. There are three sessions a year – one is to educate them about the five senses; the next is making a healthy dish with them (I usually do a carrot muffin) and the last session involves them coming here into the restaurant to have a look and I do a chocolate demonstration for them. I've been doing that for about 7/8 years now and it's wonderful; a great initiative.
And how has it been working with Chris & Jeremy all these years?
I love working with them; they are really fantastic people. As a pastry chef, they've taught me so much over the years – for example, a cake for afternoon tea needs to be made in a certain way so that it can easily be cut in half so people can share it, that sort of thing. I think after so many years now they trust me too, which is nice. And I'm not showing any signs of slowing down either, that's for sure!
Finally, would you recommend becoming a pastry chef to the younger generation?
Of course. It's hard work but if you like what you do it's very fulfilling. Also, it's not just for the younger generation – there are many people now who go to Le Cordon Bleu or various other culinary schools who are already 30-years old or more. They just want a career change or to find something else more rewarding, so I believe there is hope for anyone and everyone.
I mean, look at me! I'm 57 and I'm still in the kitchen because I love it… otherwise I wouldn't be here.