Martinstag: a Mittel European feast
A feast day in honour of St. Martin, falling on Friday 11th November. Famed for its lantern processions and goose-filled feast, this Mittel European tradition is on the menu but once a year…
Martinstag is celebrated on 11th November each year across Germany, Austria and Switzerland in honour of St. Martin of Tours.
Here at The Delaunay, we will once again be putting our own take on this traditional feast, with a special menu created by our Head Chef Christian Turner and your very own Delaunay lanterns to take home.
The legend of St. Martin
A Roman solider as a child, legend has it that Martin of Tours became a monk after declaring himself as "Christ's soldier". Known for being a kind man who carried out many good deeds, including cutting his cape in half to share with a blind beggar during a snowstorm, his good nature caught the attention of local religious authorities and the peoples of Tours, who wanted him to become their next Bishop.
The story goes that despite his best efforts at resisting, he was made Bishop of Tours after hiding in a stable full of geese who gave away his location, thanks to their loud noises. Upon being made Bishop, St. Martin demanded he be served a dinner of roosted goose as they had betrayed him, and this is why roast goose – or Martinigansl – is feasted upon each year.
Of course, this may indeed be the stuff of legends, as the 11th November also marks the last day before fasting for advent commences and is also Harvest Festival… and traditionally, workers would have been given a goose as a treat for their families.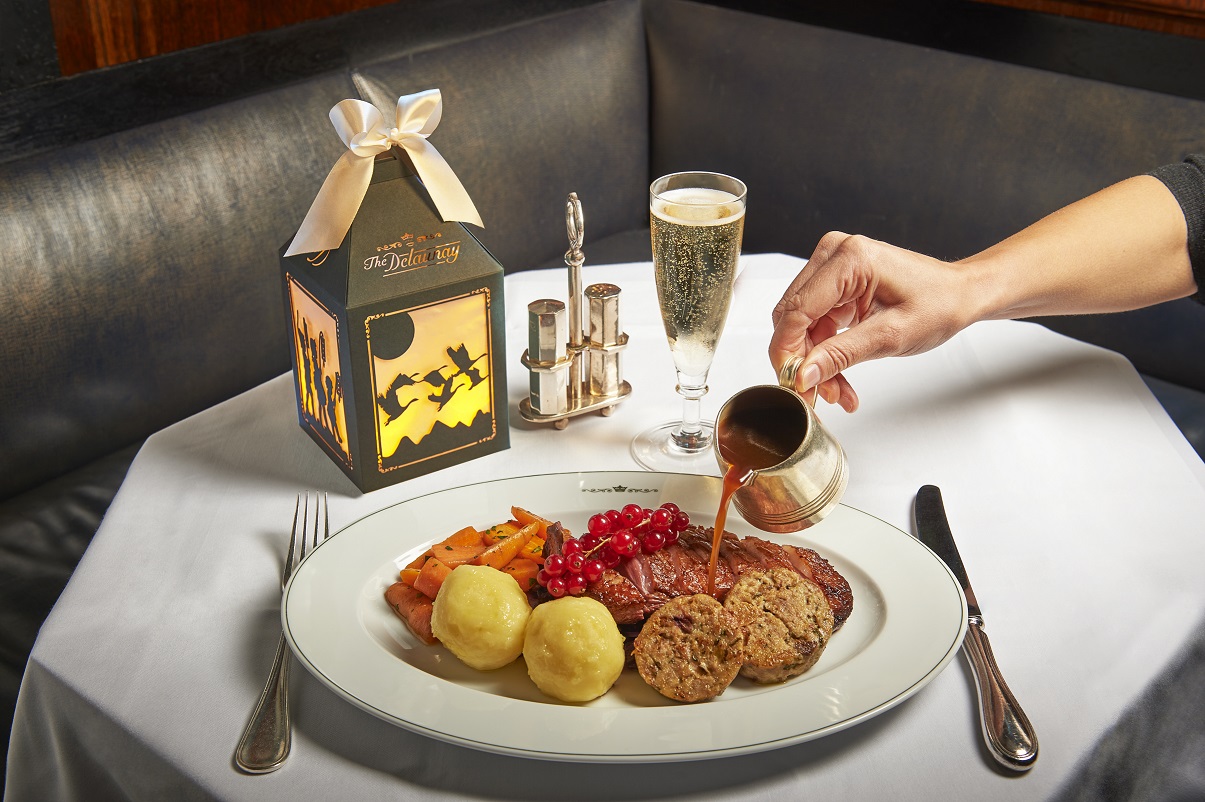 A celebratory feast
In-keeping with the traditional feast, our Head Chef Christian Turner has devised a menu fit for St. Martin himself.
Roasted goose is stuffed with chestnuts and plums, and served with red cabbage and traditional potato dumplings – and finishing on a sweet note, Vanilla Bavarian Cream with mandarin compote
Lantern processions
Sometimes known as 'Old Halloween' or the 'lantern festival' in northern Germany, the lantern is perhaps the most important part of the Martinstag celebration today. Children make their own lanterns and communities come together for light-filled processions, which are often led by a man on horseback, wearing a red cape in tribute to St. Martin.
And in some regions, children go from door-to-door with their lanterns and sing for sweets or baked treats – a tradition bearing some resemblance to the custom of trick-or-treating at Halloween.
To mark the occasion, guests who dine with us on Martinstag will receive a complimentary glass of Pommery Champagne if they dine after 7pm and each table will get their own bespoke Delaunay lantern to take home as a keepsake.
Book your table & pre-order your meal
Reservations will open from Tuesday 18th October to book your table and to pre-order your meal served from 6pm onwards.
References:
The following sources were used when putting together this piece: